DEMusic - Now taking bookings for 2023 & 2024 concerts
DEMusic School Concerts Update
I'm available to perform my regular concerts and run community concerts for schools on Mondays, Wednesdays and Fridays during school weeks in 2024 (Australia wide if travel permits). If your school, or classes within your school,  are interested in an engaging concert that reflects upon and celebrates our faith,  please contact me using the contact link below.  You can also check my availability using the corresponding link. 
CLICK HERE TO SEE DAVID'S BOOKINGS FOR 2024
Here's some feedback David recently received after working with St Mary's Primary, Hamilton, Victoria:
We booked David Enever for his "Be the Light' community concert in June, 2023. It was a fantastic success and such an easy way to hold a school concert. It was hassle free, due to David's brilliant script and song choice. At the beginning of term, he sent us the script and song list with actions for each class area to practise. We spent the term working on these and by the time he visited us in week 8, we had mastered it all! He is amazing with his communication and is so flexible. If you want to change the script or add solo singers etc, you were welcome too. 
He arrived early on concert day, worked with the school for the duration of the day to put it all together and then at 6.30pm we were ready to perform with no stress at all! 
The concert was a wonderful experience for all and sent out a beautiful message to our school community about being the best person you can be and encouraging us to live like Jesus did. 
The students enjoyed the songs and the Amen Medley was a real hit with them all. 
We would highly recommend David for a whole school concert and would be happy to speak to anyone enquiring about his performance.
(Lindy Cullinane, Religious Education Coordinator at St Mary's Primary, Hamilton)
Community Concerts Now Available
Would the staff at your school like to take the stress out of those yearly school performances? Why not get a musician in for the day to help you with it all, leading your school community to reflect on our mission as followers of Christ all at the same time. DEMusic Community concerts offer this convenience. Schools booking these receive a concert script (with linked resources for preparation leading up to the day) with a song for each year level to rehearse and two whole school songs to work on before Dave comes to their school. On the day of the concert, he will workshop with each class, the student script narrators and help the school rehearse together before performing with them all in front of their school communities for the evening. Currently DEMusic offers Christmas, Lenten and Easter Themed Community concerts, along with a 'Be the Light' themed script for other times of year.  
If this is something you feel would serve your school community well and you would like further information or would like to sample the current concert scripts available, please contact Dave using the link below:
CLICK HERE TO SEE DAVID'S BOOKINGS FOR 2023 & 2024
Listen to my latest release: 'Let the Children Come'
About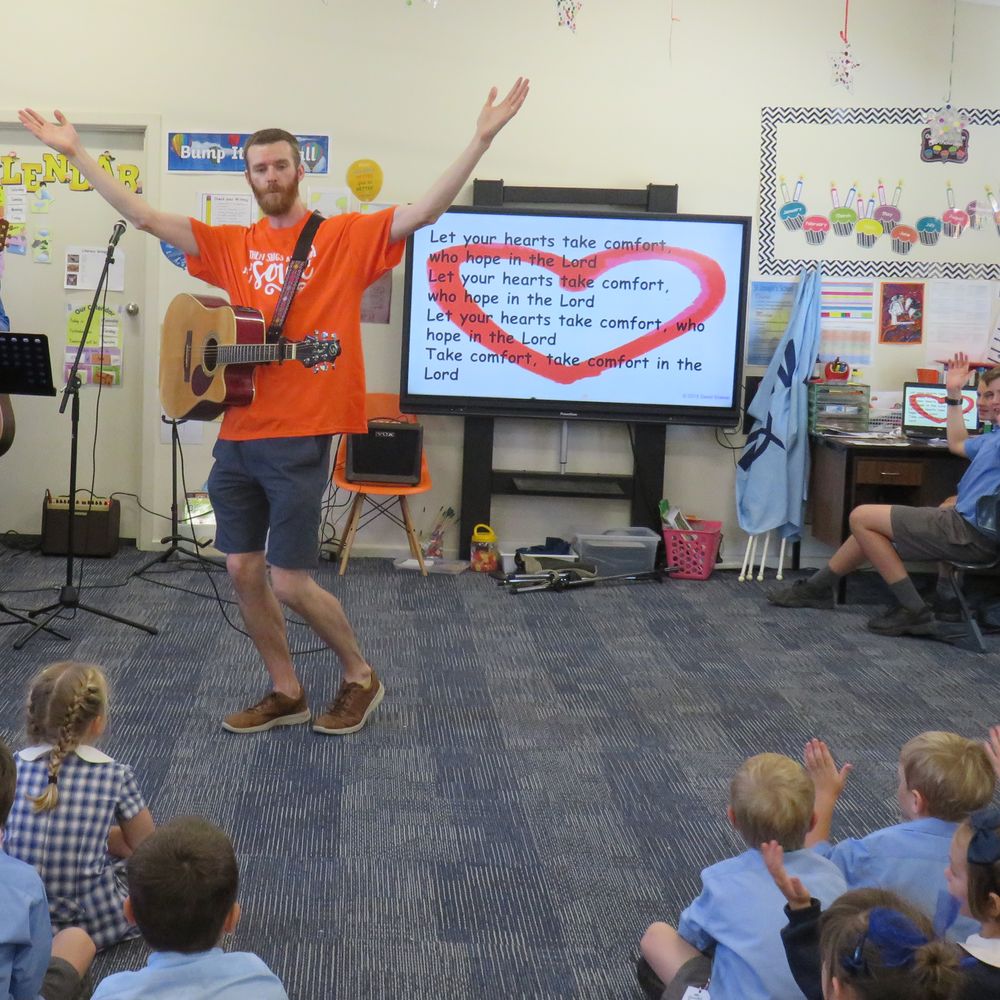 About David Enever Music
(DEMusic)
--------------------------------------------------------
Established in 2019 and based from Wagga Wagga, New South Wales, David Enever Music (DEMusic) is run by singer/songwriter David Enever, an Australian primary school teacher with over a decade of experience in Victorian and New South Wales Schools. It aims to assist in Christian faith formation in schools and for the general public through the release of music and by providing concerts.
David's school concerts aim to encourage and support faith formation through stimulating reflection by singing and moving to scriptural based songs. Friendly dialogue, with the occasional 'dad joke', also help to engage student thinking around Christian themes. 
For more information regarding David's school concerts please click on the 'School Concerts' button through this website.
Upcoming DEMusic Concerts